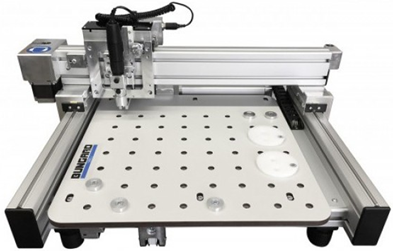 The Bungard CCD/2-Eco completes the Bungard CNC segment for the low price level. The machine is especially interesting for beginners with a low budget, because it has on the one hand an unbeatable price, but on the other hand offers the same mechanic quality and precision of all other Bungard CNC machines.
Unlike all other CCDs, this machine is equipped with a low-cost eco-spindle which allows speeds from 5000 up to 35000 U / min. For normal everyday work such as isolation milling and contour milling of printed circuit boards, this spindle is highly sufficient. For aluminum and non-ferrous metals however not. Of course the machine can be upgraded at any time thereafter with a high-speed spindle.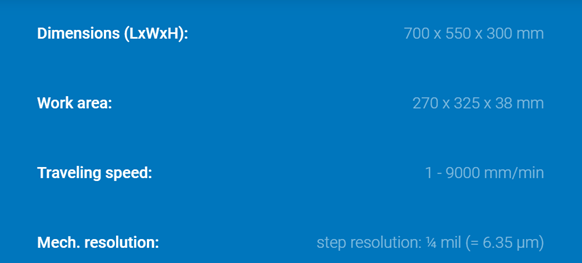 The CCD/2-Eco is a high quality Computer Controlled Drilling machine with semi-automatic tool change. It allows direct processing of Excellon / Sieb & Meyer drill data or HP-/ GL data for the production of printed circuit boards (drilling, milling, isolation routing) and milling/engraving of plastics.
In addition to the spindle the Bungard CCD/2-Eco can be upgraded with a dispensing device for solder paste or glue, a laser exposure head for exposing photoresists and a camera for calibration and inspection tasks.
Technical Data
Weight: 30 kg
Dimensions (LxWxH): 700 x 550 x 300 mm
Work area: 270 x 325 x 38 mm
Tool change: semiautomatic 99 tools
Traveling speed: 110-240 V, 50-60 Hz + vacuum cleaner (1500 W) (not included in delivery)
Range of RPM: 5.000 – 35.000
Process speed: 1 – 9000 mm/min
Software resolution: 0,0001mm (0,1µm)
Mechanical resolution: step resolution: Software selectable: 1 mil, ½ mil, ¼ mil (= 6.35 µm)
Tool diameter: 0.1 mm – 3,175 mm (recommended, bigger tool diameter possible)
Position accuracy: 20 ppm (0.002%) over the entire work space:
Maximum position speed per axis: 9000/mm/min (=150 mm/s)
Maximum working speed per axis: 9000/mm/min (=150 mm/s), individual setting on a
per-tool basis, independent from position speed
Drill speed: 5/s (= 9.000 holes/h = 150 holes/min)
Required accessories: Computer
Board fixation: span fixing, clamp fixing, reference pin system, stack processing possible (Option: vacuum fixation)
Scope of delivery
Mechanic unit + control unit + complete cabeling
Superb and sturdy high frequency spindle with eddy current brake and load control
Integrated mechanical milling depth limiter and pressure foot
Driver software RoutePro3000 (Windows 7TM- Windows 10TM-64bit) for drilling and milling
Powerful, adjustable (500-2000 W) + start adapter for vacuum cleaner
(vacuum cleaner not included in delivery)
Manual, USB/serial adapter, Set of Allen Keys
On the back of the power supply is an IEC socket. This is used to turn the vacuum cleaner on and off together with the spindle. If you connect other devices to the IEC-socket, make sure that power consumption of this device does not exced 3000W!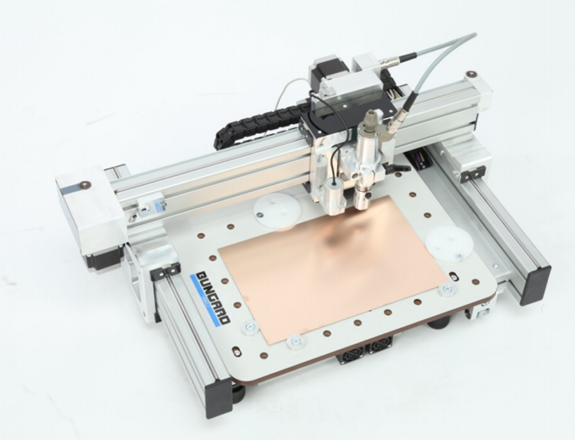 Do you want to know more about this wonderful equipment? Then check out the video below.
Did you like the content? Did you take any doubts? Take advantage and check all the content and products available on the SignumTechs website, a precursor in cutting-edge technological equipment that stands out for its diversity of brands, models and especially prices. It is at your disposal so that you can take all your doubts, compare prices and finally choose the best product for you. On the website it is possible to find numerous models of equipment from the most varied niches, resources and configurations. The SignumTechs website has a wide portfolio and a range of varied products, all at your disposal. Take advantage and get to know other measuring equipment that will complement your project. The SignumTechs Portal is available to you 24 hours a day, 7 days a week. Just waiting for you to come and check out all the technology in equipment we provide for you and your company. What are you waiting for? Visit us right now.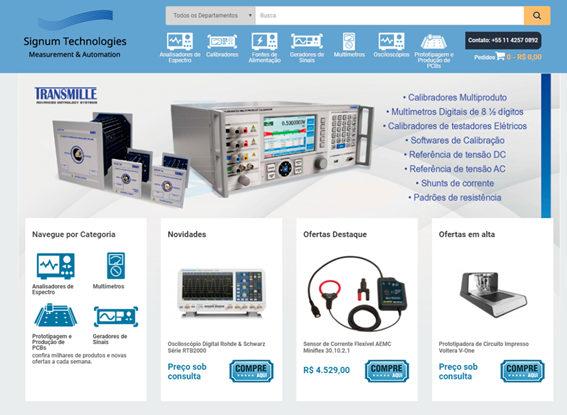 Access: https://signumtechs.com/